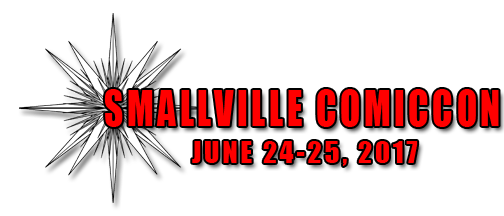 Special Events
2017 Special Events
Costume Contest
This year we have decided that one costume contest just wasn't enough, so we are having two! We also have a very special guest MC for the contest Mandy Thibert! She will be helping announce your costumes as you bring your cosplay to life across the stage! We have some very talented Judges this year including Heather Robinson, Clay Aksarben Hielscher, Oh My Sophii, Jim Dixon, Paige Taylor and Jen Greeley! The first Costume contest will be held on Saturday the 24th and will be an Individual contest like we have done in the past with trophies going to 1st, 2nd, and 3rd place Male and Female Adult category's and 1st 2nd and 3rd in Male and Female Youth category. On Sunday we will hold a 2nd costume contest for groups only, you must have at least 2 in your group, with 1st, 2nd and 3rd place trophies going to the top wining groups. Grab your friends and get your costumes made up for a chance to win these one of a kind Fortress of Solitude trophies! Get more details on our Costume Contest Guide.
Live Demo!

Saturday the 24th! What do you get when you combine Guinness Book of Record holder guest Bill Blair with Professional Make Up artist guest Carl Taliaferro? You get an EPIC demonstration turning Bill into the GreenGoblin for fans in this LIVE Demo! Fans will get to see how make up gets applied & what steps it takes to apply it and remove it in a professional and safe manner. This Demo will show the step by step to making a movie grade make up and take place on Saturday the 24th on the stage in the Meadowlark building from Noon-4:00 PM. You won't want to miss this one time chance to learn some tips from the pro's and see this transformation come to life! Bill will also be doing some photo ops with fans in and out of the make up.
Fast and Furious Car Show

Sunday the 25th! Join us for the first ever Smallville ComicCon Car Show, judged by Noel G himself! Registration will be Sunday from 9:30 am-12 pm, between the Meadowlark and Sunflower South buildings. All fans attending on Sunday will have the opportunity to vote for their favorite car, truck, or motorcycle to win the "People's Choice" award. Judging will be conducted from 3 - 4 pm with trophies awarded in the categories of "People's Choice," "Best Theme," "Most Unusual," and "Sweetest Ride," with Noel G himself selecting and awarding the "Best of Show."
Butch Patrick's Munster Tribute Cars Display

Butch Patrick will showcase his fantastic display featuring the Munster Koach and Dracula car!
Captain Spaulding

We welcome Kevin Hansen AKA Captain Spalding to the show!
Captain Spaulding was originally played by Sid Haig in Rob Zombie's cult classics, The Devil's Rejects and The House of 1,000 Corpses. Actor Sid Haig met Kevin Hansen at KC Crypticon and did a double-take; they do look alike, but only one is dangerously funny. Join Captain Spaulding's riotous panels or variety shows. Be ready to be captivated. The Captain also sings his theme song 'Captain Spaulding' with rock bands Cemetery Suicide and Rabbits 666. Now that's just scary! This creative Cosplayer, (g)host, and entertainer serves fried chicken and child-friendly humor to his fans and friends. Not many can resist giving this big clown a friendly hug. Only one person out of twenty runs in sheer terror! Kids, bikers, moms, sisters, grandmothers, and horror fans love Captain Spaulding – he has the photos to prove it!
Sternberg Museum
Community education outreach with fossils and exhibits!