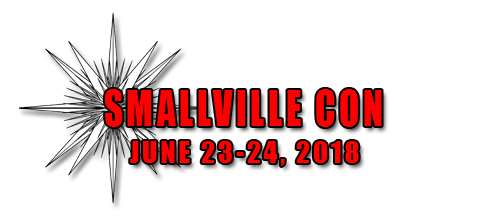 About
Location
The 5th Annual Smallville Con is scheduled for June 23 - 24, 2018! We are pleased to continue hosting the annual Smallville Con on the grounds of the historical Kansas State Fair.
Hours:
June 23: 10am - 7pm
June 24: 10am - 5pm
Kansas State Fair – The main entrance and ticket office is located at the Meadowlark Building.
2000 N. Poplar
Smallville / Hutchinson, Kansas 67502
ALL PARKING IS FREE!!!
Maps:

Hotel Information
Please make reservations by phone to receive the Smallville Con rates!
Atrium Hotel and Conference Center = $67 + tax
1400 North Lorraine Street, Hutchinson, KS 67501
620-669-9311
Hampton Inn = $99 + tax
1401 1/2 East 11th Street
Hutchinson, Kansas 67501
620-665-9800
Super 8 Hotel = $69.95 + tax
1621 Superplaza
Hutchinson, KS 67501
620-663-7822
History
The creation of the Smallville Con was the result of a lot of hard work and a series of fortunate events.
The initial inspiration came from three comic book fans; Ben Eisiminger, KC McNeely, and Chris Wietrick. They recognized similarities between the City of Hutchinson, Kansas and the fictional City of Smallville, Kansas – the boyhood home of Clark Kent, alter ego of Superman. The three began a grassroots campaign to have Hutchinson recognized as the official Smallville, Kansas.
Their efforts caught the attention of long-time Superman fan, Jon Robinson. Interested in their efforts, Jon provided support and loaned his original handmade costumes inspired by the Man of Steel movie toward the cause.
The effort succeeded and on June 21, 2013, through mayoral decree, Hutchinson was renamed Smallville, Kansas for a single day. On this same day, Superman was inducted into the Kansas Hall of Fame as the most recognized "Kansan" within pop culture. Jon was invited to attend the induction ceremony within the State's Capital with his family, all wearing their Man of Steel costumes.
All of this coincided with the 75th anniversary celebration of the creation of Superman.
Somewhat overwhelmed by the Hutchinson community's interest in Superman, Smallville, and comic books in general; Jon was then struck with the thought this interest may be great enough to support a local comicon. A comiccon is a fan convention which brings together celebrities, artists, writers, and vendors with a focus on all things comic book and pop culture.
Not wanting to crash anyone's party, Jon first approached the originators of the "Hutchinson is Smallville" campaign; who wished him well in his endeavors. Jon then turned to his attention to the challenges which lay ahead.
With the confidence of a true fan, along with the support and assistance of his family, Jon brought forth a strong desire, personal touch, and a dream to create an amazing event. As plans grew for the comic book and pop culture convention, so did interest and activities within Hutchinson. The city again changed its name for June 21-22, 2014 in recognition of the first Smallville Con.
Smallville Con is presented by Artistic Consultants, P.O. Box 52, Little River, KS 67257; 620-897-7420; smallvillecomiccon@yahoo.com; Facebook/Smallville Comic-Con.
For more information contact Jon Robinson at Artistic Consultants.
Sponsors
Thank you to the 2017 Sponsors of Smallville Con!
Eagle Communications: www.eaglecom.net
Hutch Post: www.hutchpost.com
KHMY-FM, My 93-1, Hutchinson's Hit Music Station: www.khmyfm.com
KHUT Country 102.9, Hutchinson's Country Station: www.hutchinsonscountrystation.com
KWBW News, Talk, Sports 1450 AM and 98.5 FM: www.bwradio.biz
Ground transportation for our Guests is provided by: